Our Infrastructure
Data Center Overview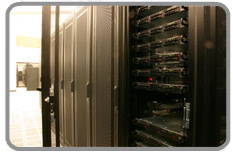 All the iNETX servers operate out of the Convergent Network Services data center in New York, offering complete redundancy in power, fire suppression, network connectivity, and security.
The datacenter facility sits atop multiple power grids, with UPS battery backup power and diesel generators onsite. An HVAC redundant climate control system provides redundancy in cooling coupled with four managed backbone providers.
Fire suppression includes a Fireflex pre-action dry pipe system including VESDA (Very Early Smoke Detection Apparatus) with over 200 smoke detectors.
Network Infrastructure
Our network architecture utilizes the Enterprise routing and switching engines from Juniper and Cisco. We utilize Juniper M20 routers as border routers, Cisco 6500 series switches in our distribution layer and Cisco 6500 switches in our aggregation layers, and Cisco 3500 and 2900 series switches at the customer layer. Our network is fully meshed and redundant with 5 backbone providers - Level3, Global Crossing, NAC, Cogent and WV Phiber.